When you hear about Kombucha, a healthy concoction of fermented tea, the flavours that came to mind would be the usual flowers or fruits. But a Singapore's twist to this popular healthy beverage? That's something I won't have imagined. My curiosity got the better of me and I tried out Le Vyr's Kombucha.
Le Vyr have developed a very unique range of Kombucha. Ever heard of Liang Teh Kombucha? What about our most basic drink, Teh O and Kopi O Kombucha? Combining our local flavours to this beneficial fermented tea, we can enjoy the taste of Singapore while taking care of our health. Grab a bottle of the Singapore Sling Kombucha during your night out, I guarantee you, the fizzy soury drink is as good as the real Singapore Sling.
Adele Lau, the founder reveals the story behind Le Vyr. Check out what she says below.
How did the idea for Le Vyr come about?
The idea of Le Vyr came about from a need, a need for a kombucha that would truly express what I believed kombucha had the potential to be. Having been an avid homebrew kombucha consumer for the longest time (half a decade), I was excited when the trend finally caught on locally. However, the commercial kombucha I found on the shelves never did seem to satisfy me. This is a view shared by my partner and fellow lover of all things fermented.
Le Vyr, expresses the excitement that we truly believe kombucha could be, and the impact we would like to have as a brand.
What was the inspiration behind it?
It was partly inspired by our experiences as consumers of cocktails and craft beers. Through observing how the local movement for mixology and beer brewing has evolved, Le Vyr was created to push our local kombucha scene to the next stage. We aim to take an international idea and truly make it a local product. After all, isn't that how our diverse food culture came to be?
When did Le Vyr first start?
Le Vyr was first conceptualised and R&D began in the first quarter of 2020.
"

Singapore sits at the crossroads of Asia, and now the world. Our kombucha was created to reflect that diversity and heritage, right at our doorsteps. We aimed to use ingredients that were not only familiar, but that would invoke memories when consumed.
"

– Adele Lau, Founder Of Le Vyr
Why focus on local flavours?
Singapore sits at the crossroads of Asia, and now the world. Our kombucha was created to reflect that diversity and heritage, right at our doorsteps. We aimed to use ingredients that were not only familiar, but that would invoke memories when consumed. That crisp and delightful Teh-O Ping after a hard jog at your local park. A refreshingly tart beverage after a heavy supper at your neighbourhood prata house or even Mom's special chrysanthemum tea for when the days got really warm.
We've all had some form of these memories, and if you haven't, all the more we'd love to have you join us. We're only just beginning, stay tuned and you might just discover a thing or two about yourself at the bottom of a bottle.
How did you get into kombucha making business?
My family first started brewing Kombucha almost 5 years ago when my parents decided to start eating better and lead healthier lifestyles. After hours spent over pots of warm tea and clearing out tubs and tubs of SCOBY (symbiotic culture of bacteria and yeast), I eventually picked up the recipe perfected by my father. I was motivated to turn our family recipe into a business when I realised that I could elevate it, and incorporate the creativity and innovation that I had yet to see in the market. This was further enhanced when I met my partner, resulting in the products we create today.
As a Chemist by trade, I encountered kombucha numerous times in my journey as a student of the sciences. My knowledge in Cell Biology and Organic Chemistry acted as guiding principles for production throughout this venture. As will be mentioned in the processes later on, we firmly believe in manufacturing products that are not only absolutely great for you, but incredibly genuine and delicious as well.
How did you come about/ experiment with the three current flavours?
We settled on our three current flavours after multiple rounds of R&D and several panels of taste testers. As mentioned earlier, we searched for flavours that could truly invoke those memories. This meant that our initial set of flavours could not be obscure and niche. They had to be all-encompassing and diversified over various cultural influences.
These initial flavours have also been created with the intention of covering a diverse range of complex nuances
Liang Teh Kombucha – A Floral Bouquet, Rich, and Refreshing

Teh Limau Kombucha – A Citrus Situation, Tangy & Feisty

Teh-O Kombucha – A Punchy & Aromatic Ensemble (Original)
What motivates you to push forward?
Honestly? I love it. If I wasn't doing this as a business, I can almost guarantee I would be doing it for my friend's and family's consumption. My partner and I feel a deep accountability and respect for the product, and that translates into a need to deliver the best product possible. Feedback drives us. When a customer tells us how much they enjoy the taste profile and appreciate the label design, it truly feels like we're doing something fulfilling.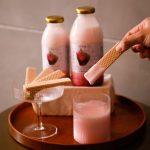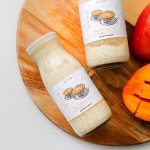 Beside Kombucha, Le Vyr's also offers Kefir, fermented milk beverage that taste very similar to a yogurt drink.
Do check out Le Vyr for more of their kombucha brewed with passion.