Herbal Bliss Tea | CCF Tea | Ayurvedic Blend of Cumin, Coriander & Fennel seeds | Detox tea | Digestive tea | Herbal Tea
$15.00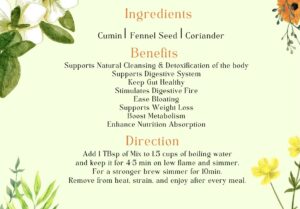 Item will be shipped in 1-3 business days
Compare
CCF tea is 100% Natural herbal tea. It Supports natural cleansing & Detoxification of the Body.
It Supports Digestive system, Stimulates Digestive Fire & keeps your gut Healthy if consumed after every meal.
It ease bloating, Boost metabolism and supports weight loss.
Vegan | Gluten free | Caffeine free | No Preservative | Sugar free
No more offers for this product!
General Inquiries
There are no inquiries yet.