Innovative Reunion Meal for this LNY 2022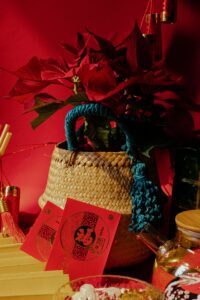 Happy 2022 to all our readers out there! It seems like we have just celebrated Christmas and New Year and we are now preparing for our Lunar New Year. 
If you are assigned to prepare the reunion dinner, we thought that you might like to have this dish to be part of your reunion meal with your loved ones!
Perhaps you have seen this dish ever so often in your Korean dramas and it makes you think to yourself, is it really that delicious? Well, yes it is! Most of us are familiar with this Korean superfood, also known as Kimchi. Besides being tasty, did you also know the health benefits it comes with?
The main ingredient used is cabbage, hence it is high in fibre. This dish is made with salt, vinegar, garlic, chile peppers and other spices. At 100g, it only has 23 calories hence one need not be scared even if they were to over consume. You might have heard that spicy food increases metabolism and in the case of kimchi, the red pepper used contains the chemical capsaicin, which contributes to an increased use of energy and can help to suppress your appetite too! Now, for people who seek to lose weight, metabolism plays a huge role. Thermogenesis is the process by which humans burn calories. Studies have shown that capsaicin may encourage thermogenesis. Yay what a win-win situation!
On top of that, kimchi also makes your outer appearance glow as well. The selenium found in garlic which is present in kimchi helps to keep your skin and hair healthy. What is even better is that due to its fermentation process, it is rich in antioxidants and this helps to slow down the aging process, who doesn't want to look younger! 😏
Kimchi also contains good bacteria which is important for good gut health. This good bacteria is also known as lactobacilli which lives in our digestive system and helps to digest the food that we consume. Hence, consuming kimchi due to its high fibre content alongside the good bacteria helps to prevent constipation and indigestion. This also wards away from nasty diseases like gastrointestinal diseases.
Besides its health benefits, it is also versatile in cooking as one can eat on its own, make it into a stew, or even serve along with noodle dishes. Yum yum! 😋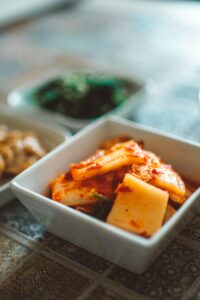 Not forgetting to have tea sessions with your loved ones to digest your reunion food. 🍵
And what would LNY be without some delicious cookies? Recently received this beautifully curated LNY gift bundle from one of the Bulbers. It comes with a extravagant designed canister and a box of cookies! You may want to check this out  https://bulbs.sg/product/cny-prosperity-gift-box/. Perfect gift for our relatives! 
Reunion dinner is not just all about tradition, let's be innovative in 2022 and embrace the tradition.  
We wish all our family members, friends and loved ones best of health and a prosperous year ahead! 💯
In short, it is delicious, healthy, prebiotic rich and versatile. If you're wondering where you can pick this goodie, look no further! We have this on Bulbs; https://bulbs.sg/product/vegan-krunchy-kimchi-200-gms/. So for those who dislike eating vegetables, you might want to give this crispy and tasty veggie a try at least once in your life!