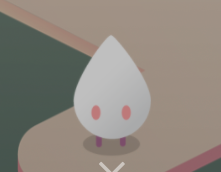 Meet Lu, Your Healthy Companion!
Who is this cute little guy? 
He is Lu, the character in Lumi Health App, where he will accompany you on your journey to a healthier lifestyle.
Heard of the Lumi Health App?
We all know we need to stay active to stay healthy but it is so much easier for us to act like a sloth. It is especially difficult for us staying in a first world country like Singapore where it is also a food paradise, being inactive and with all the food consumed and many calories after, it is no wonder many of us are not at our peak health performance.
Thanks to the Lumi Health App, it is the first-of-its-kind health program designed by Singapore Health Promotion Board, in partnership with Apple, to help Singaporeans lead a healthier lifestyle. It combines technology and behavioral insights to offer unique health and wellness experience to fellow citizens, using rewards to motivate people. It actually gamifies the whole process of the healthy lifestyle, making it much easier for anyone, as opposed to doing it mundanely. 
With each activity completed, it is just like a game, after you complete each level, you are rewarded. I mean, who doesn't like rewards right? Basically, there is a character in the LumiHealth app, known as Lu. By helping him to complete the adventure, we are rewarded! How simple does this get? Lu will give you coins for each milestone you help him to achieve which in turn helps you to redeem HPB eVouchers. We can win up to $380 in eVouchers over two years which we can use at 40 participating merchants. Such merchants includes 7-11, Cathay, Cold Storage, Giant, FairPrice, Golden Village, Guardian, Koi, Liho, NewBalance, Osim, Popular bookstore, QiJi, QQrice, Sakae Sushi, Singtel, Sheng Siong, Simply Wraps, Swensens, Tangs, Watsons and many more. 
Experience of the Lumi Health App
We have gotten one of the Bulbers, Jeline, to go on a 14 days challenge and try out the app. Check out her video here:
Question 1: How did you found the app to be? On a scale of 1-10, how many points would you give it?
I think the app to be pretty fun and user friendly and I enjoyed the journey. With this app, I am more motivated to stand up and move about and not stay in my desk all day long, which is unhealthy. I would give it a 9 points out of 10.
Question 2: Would you recommend this app to others?
Yes, definitely and I would recommend others to try out this app and see for themselves what this amazing app has to offer.
The activities are as simple as Moving, Standing and Exercising. I mean we are already moving and standing in our daily lives, so why not give this app a try and get rewarded doing so? What are you waiting for! Of course, there are more exciting challenges waiting for you in the app for you to find out, so go ahead and do so for yourselves!
For more information, visit https://www.lumihealth.sg